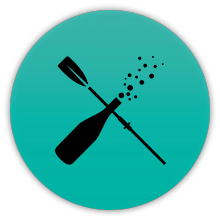 Visit Fairmile Vineyard
Book your own tour & taste!
If you have a group of six or more adults, we'll give you half a flute of each of our sparkling wines during your own tour at a time to suit @£10:00 per adult - minimum spend £60:00 per group (children free). We take the group into the vineyard and talk about the annual cycle of the vines and how the wine is made; we then walk the group up to the top of the vineyard where we have a seating area to enjoy the spectacular views. For an additional treat, bring a picnic, or we'll be happy to recommend a couple of local suppliers who will deliver a picnic here ready for you.
For smaller groups @£10:00 per adult, we currently have availability for you to join an existing tour:
14:00hrs, Sunday 19th June 2022
Just phone or email your requirements, or if you would like to purchase a tour voucher to give as a gift.
Events
Please contact us to discuss any requirements for hosting your own event - parties, corporate entertaining, wedding receptions/photography, etc.
The lower part of the vineyard is accessible in dry weather by wheelchair users.