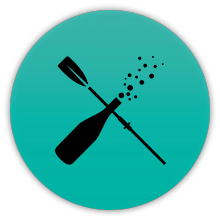 Visit Fairmile Vineyard
Open days
With better weather here, we are pleased to offer family (and dog)-friendly self-guided tours and tastings. Bring a picnic and rug too! Enjoy the fresh air with plenty of space to socially-distance. Watch the red kites circle over this Area of Outstanding Natural Beauty and sample our award-winning fizz. No need to book or pay.
Our next dates will be published here once we have harvest out of the way.
Alternatively...
Pre-booked Tours
If you have a group of six or more adults, we'll give you half a flute of each of our sparkling wines during your own tour at a time to suit you @£10:00 per adult - minimum spend £60:00 per group (children free). We take the group into the vineyard and talk about the annual cycle of the vines and how the wine is made; we then walk the group up to the top of the vineyard where we have a seating area where you can enjoy the spectacular views. For an additional treat, bring a picnic, or we'll be happy to recommend a couple of local suppliers who will deliver a picnic here ready for you.
Just phone or email your requirements, or if you would like a tour voucher to give as a gift.