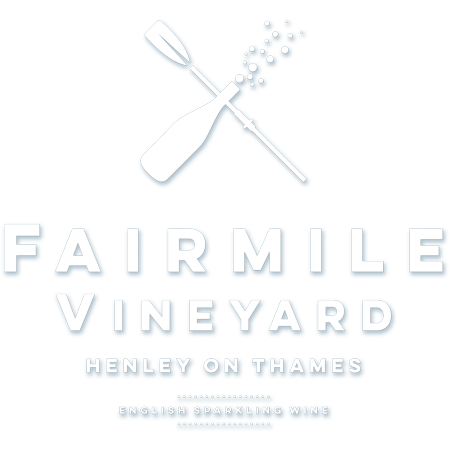 England's Outstanding sparkling white wine celebrating its tenth anniversary
Award winners!
Fairmile Vineyard's maiden vintage from 2015 beat highly distinguished and long-established vineyards to be voted England's only Outstanding sparkling white wine by Decanter wine and lifestyle magazine (January 2020 edition) winning 95-97 points/100. The wines are now even better, enriched by the blending of mellow reserves from previous years. Such quality of grape is achieved from our steep south-facing slope, below the 100 metres altitude critical to English vineyards.
To celebrate our tenth anniversary of planting the vines in 2013, we have launched a limited-edition Founder's Reserve 2015 - the same wine rated "Outstanding" by Decanter magazine, but with an additional four years' lees-ageing. This is so rare and special as to be only available through our wine cellar door sales.
Wine cellar door sales
As a boutique vineyard, you won't find our multi award-winning wines everywhere, but they can be found in selected wine merchants, fine dining restaurants and online - with free delivery of one or more cases around Henley on Thames - or just click-and-collect.
If you would like to buy direct from the vineyard, our wine cellar door opening hours are:
Saturdays: 10am - Noon
Tuesdays: 10am-Noon
Thursdays: Noon-2pm
If you're stuck, phone or email to see how we can help!
For tours, we are open all year round every day of the week until 4th November 2023 - see our Visits page for details.
Keep checking this page, or enter your email address on our Contact page to hear about the launch of new products and events.
Good health,
Jan & Anthea