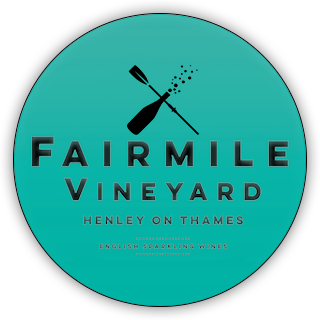 England's only Outstanding sparkling white wine
Fairmile Vineyard's maiden vintage beat highly distinguished and long-established vineyards to be voted England's only Outstanding sparkling white wine by Decanter wine and lifestyle magazine (January 2020 edition). Out of 53 sparkling white wines costing under £50:
16 came as Recommended (86-89 points/100).
26 were Highly Recommended (90-94 points/100).
Only Fairmile Vineyard's Classic Cuvée was deemed Outstanding (95-97 points/100).
(Rosé sparkling wines were not eligible for judging on this occasion).
This follows Thames & Chilterns Vineyard Association awards of a gold medallion for our rosé , and a bronze for our classic cuvée within a month of launch in August 2018.
Thank you also BBC TV Oxford for featuring Fairmile Vineyard in South Today News on 22nd August, reinforcing our reputation for top-notch bubbly from a beautiful location.
Wine cellar door sales
As a boutique vineyard, you won't find our wines everywhere, but they can be found in some independent wine merchants, fine dining restaurants and online.
We were also pleased to restart wine cellar door sales after the pandemic lockdown - subject to social distancing and additional hygiene precautions. Opening hours are as before:
Saturdays 10:00hrs-12:00hrs
Tuesdays 10:00hrs-12:00hrs
Thursdays 12:00hrs-14:00hrs
Next public open days
Subject to certain government guidelines, we are delighted to invite people to family-friendly free self-guided tours and tastings again on:
Saturday 8th August 10:00hrs-17:00hrs
Sunday 9th ​August 10:00hrs-17:00hrs
Saturday 22nd August 10:00hrs-17:00hrs
Sunday 23rd ​August 10:00hrs-17:00hrs
Saturday 5th September 10:00hrs-17:00hrs
Sunday 6th ​September 10:00hrs-17:00hrs
No fees or bookings required, though we will ask your social bubble leader for a contact detail on entry in case we need to trace you later. Since we are also selling our wines by the glass and by the bottle, feel free to bring a chair or rug as we have withdrawn our external furniture to reduce the number of touch points.
Online ordering continues as normal using courier delivery and free delivery of one or more cases around Henley on Thames. We follow health precautions published by our industry body WineGB.
If you have a party of six or more, we'll crack open a bottle of our bubbly during your own private tour & tasting at a time to suit you @£10:00 per head (children come free) - just phone or email your requirements, or if you would like a voucher to give as a gift.
Keep checking this page, or enter your email address on our Contact page to hear about future events when you can once again sample our wines at one of our vineyard open days or at food and wine fairs once life returns to normal.
Good health,
Jan & Anthea