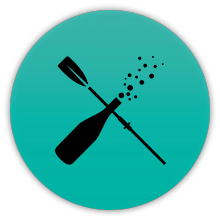 Blog 3 - Coping with growth
With "the English Season" well under way – Ascot, Wimbledon and Henley Royal Regatta -, it was lovely to see the town full of beautifully dressed ladies in summer dresses and hats, men of all ages wearing blazers and ties. As gardeners will know, this is the time of year when everything blooms on an almost daily basis, and it's a constant battle against nature to keep everything in check. The hot weather in June (yet another record high?) was followed by a few very welcome rain showers, and the vines are flourishing. Tucking them in between the horizontal wires is like painting the Forth bridge: no sooner does the task look completed, it needs starting all over again as the vines have put on another metre of growth. If not kept in check, the vines would quickly start "shaking hands" across the rows, making it impossible to drive a tractor up – or even walk up – without knocking off canes bearing the precious inflorescences. The fine weather has been great for flowering, and most vines are now bearing plenty of tiny bunches of grapes.
Other jobs at this time of year include spraying the plants against downy mildew and powdery mildew because even on a hot day, humidity levels are high and fungal rot can quickly set in. One of the tricks to keep fungal spores at bay is to allow free circulation of air beneath the vines – but this means constant mowing and removal of weeds. There's no easy way to mow 100 rows – just constant trips up and down with a narrow mower.