 Blog 19 - New Year, new releases
Bumper harvest

The current chill makes it easy to forget what a year 2022 was. A Spring free from frosts, the mini heatwave at Easter, followed by that scorching summer with temperatures nudging 40°C. Our vines are mature enough for their roots to seek out sufficient water, so were untroubled by the drought. We were therefore able to harvest a bumper crop of grapes three weeks earlier than normal. The great weather also enabled the vines to lay down good buds for the forthcoming season. It's just a pity nobody will be drinking our 2022 wines for at least another four years while the yeast works its magic at the winery!
Don't worry though, we have plenty of your favourite sparkling Rosé and Classic Cuvée to enjoy or give as presents.
New releases
We are thrilled to announce the launch of our first pure vintage Blanc de Blancs ("White of Whites") 2017. Made only from our Chardonnay grapes, and matured for more than 4 years on the lees (yeast), it tastes sublime with a smooth citrus flavour, and offers a refreshing addition to our Rosé and Classic Cuvée.
Presently this is the only Blanc de Blancs we have made, (although a Blanc de Noirs is on its way), so with finite stocks, it is only available from a selected number of outlets. You are, however welcome to buy it direct from our wine cellar door or online shop.
Please note that, after more than four years of sales, we have had to make the decision to increase the price of both our Rosé and Classic Cuvée wines, with only a few days left at the old prices.
Fairmile Vineyard gifts
Already, our gift set trio of one bottle each Rosé/Classic Cuvée/Blanc de Blancs 2017 is selling strongly, so get yours to celebrate the end of "dry January"! We have also updated our website Shop to include gifts such as sparkling wine stoppers, wonderful scented candles made from our upcycled bottles, and a link to Gorvett & Stone's Fairmile Fizz chocolate truffles.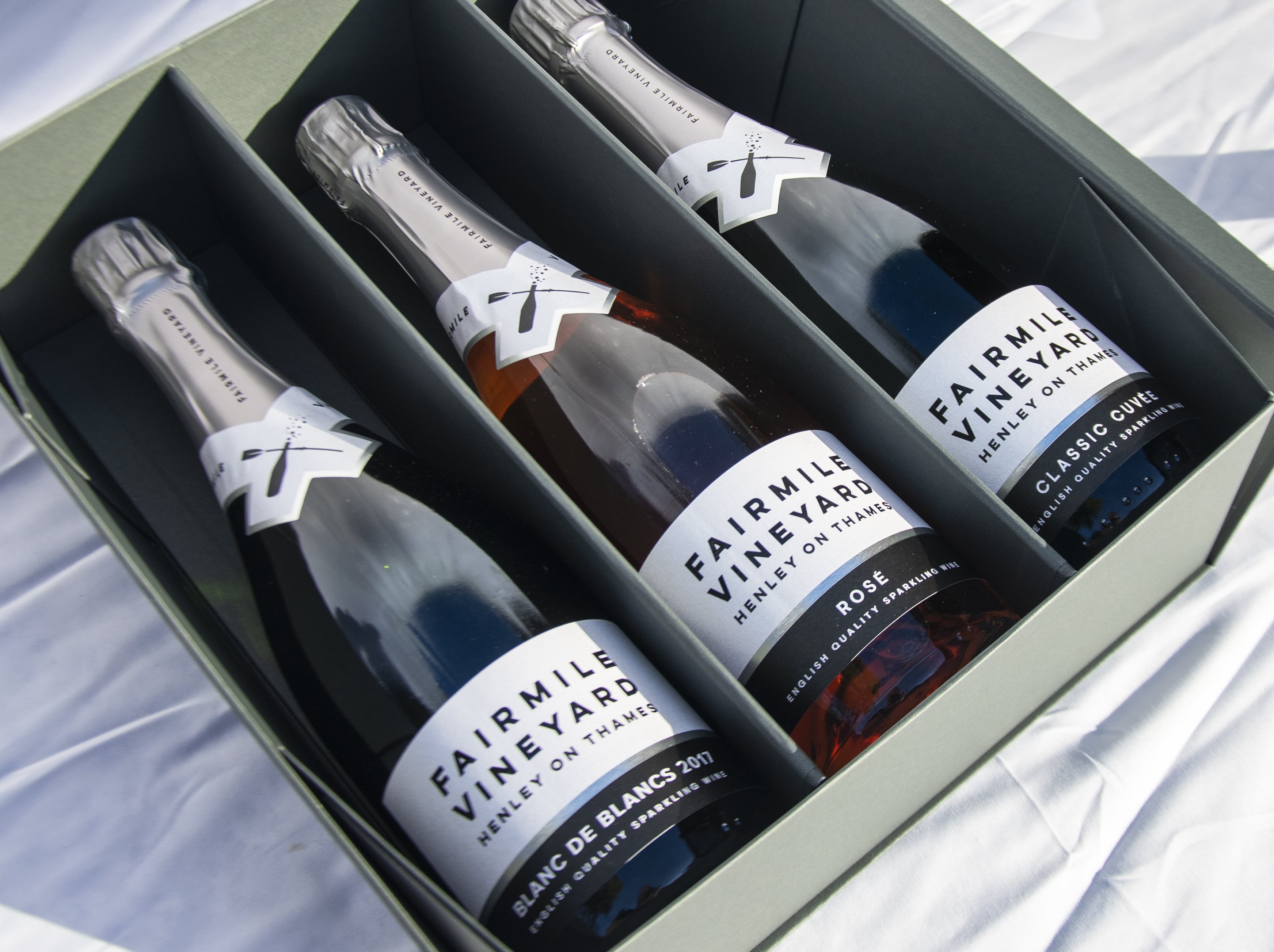 Tour vouchers
Fairmile Vineyard tours & tastings remain popular all year round (see the Visits page of our website) – phone or email your requirements if you would like to gift a voucher to someone. The vineyard provides an ideal venue for parties, picnics, corporate events, photography and filming. Or why not follow up a tour & taste with a meal at one of Henley's many fine restaurants within walking distance?
With best wishes to you and your families throughout 2023
Jan & Anthea