 Blog 14 - Preventing disease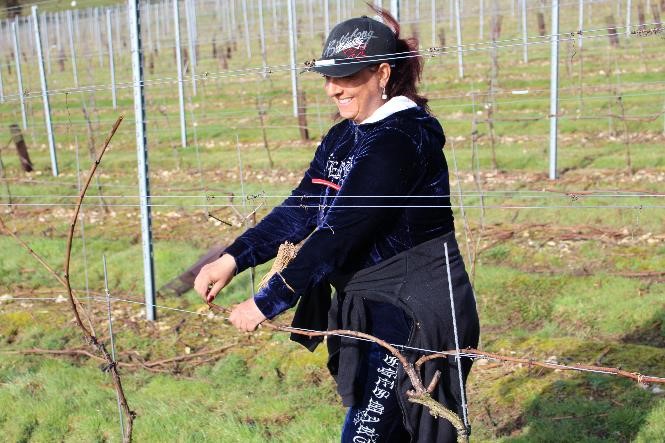 Even as we watch unprecedented events unfolding globally, the vineyard continues its normal growth cycle, and an early bud-break after the mild winter. Following February's winter pruning, sufficient labour - happily - was available in March to then tie down each vine to the shape of a capital letter "T". As usual, we left these tasks as late in the season as possible: the rising sap drives bacteria outwards away from pruning wounds, reducing susceptibility to plant disease.

The much bigger disease worry this Spring is from the spread of coronavirus throughout the population.

Regrettably, for the duration of the pandemic, Fairmile Vineyard is hosting no more open days, tours & tastings. Public fairs that we would have attended have been, or are likely to be, postponed or cancelled indefinitely by the organisers. Although the Government granted an exemption (on 23rd March) for licensed shops selling alcohol to remain open, Fairmile Vineyard has taken the precaution of suspending its thrice-weekly cellar door sales until further notice.

We are however pleased to announce that click-and-collect sales continue for those living close to the vineyard as you can safely make payment online and set up a convenient time to collect, observing social distancing guidelines.

We are further pleased to announce that, during the current pandemic, we are offering free deliveries of one case or more within Henley on Thames. Please phone or email your requirements.

For those further afield, our online shop continues to run normally using courier delivery.

We will, of course, heed any further government restrictions that may be imposed and we follow hygiene precautions issued by our trade association WineGB: COVID-19 News Update Cellar Doors and Visitors Measures to follow.

Fairmile Vineyard embodies the spirit of the plucky Brit and we want to support your own efforts by putting a little fizz back in your lives - responsibly, as always.

Stay healthy and raise a glass to better times ahead.
Jan and Anthea