 Blog 12 - Height of Summer
Monday 5th August 2019
Phew! Our fabulous steep terrain along the Fairmile helped us escape any frosts in early May, and the delicate buds flowered beautifully to produce an astonishing number of bunches of tiny grapes. In common with many other English vineyards this year we are observing unusually elongated bunches, with up to 25% more grapes than usual per bunch. Additionally, spacing between individual grapes is also generous, which will enable plenty of sunlight and air to circulate around individual berries, keeping down the risk of fungal attack.
In fact we have such an abundance of grapes this year, we were able to thin-out any underperformers. This will enable the vines to concentrate nutrients into a smaller number of bunches, so quality will be up this year. It's the age-old balance of quantity versus quality, of which Fairmile Vineyard is keen to focus on the latter.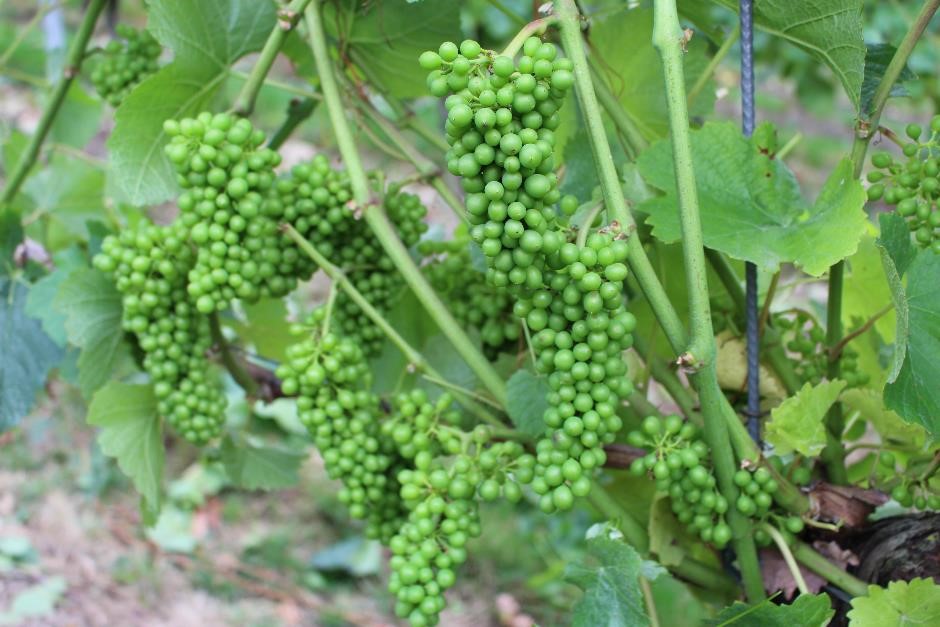 Keeping these unruly plants in check has meant an unending summer of bud-rubbing, tucking-in, de-leafing, bunch-thinning, and vine-trimming. If you drive along the Fairmile we hope you've noticed that the effort has been worth it, and the vines currently look fantastic.
We have been gratified by the number of visitors who have either attended our public open days or booked private tours. There really are few finer experiences than sitting on our viewing area at the top of the vineyard and enjoying the stunning views along the Chilterns Area of Outstanding Natural Beauty, sipping a glass or two of chilled bubbly overlooking the vineyard from which it came. Please phone or email if you would like to arrange a tour for your friends and family.
Alternatively, our next public open days are scheduled for the August Bank Holiday weekend. There is no need to book or pay – just turn up between 10:00-17:00 on Sunday 25th and Monday 26th August 2019.